2022 Summer Initiative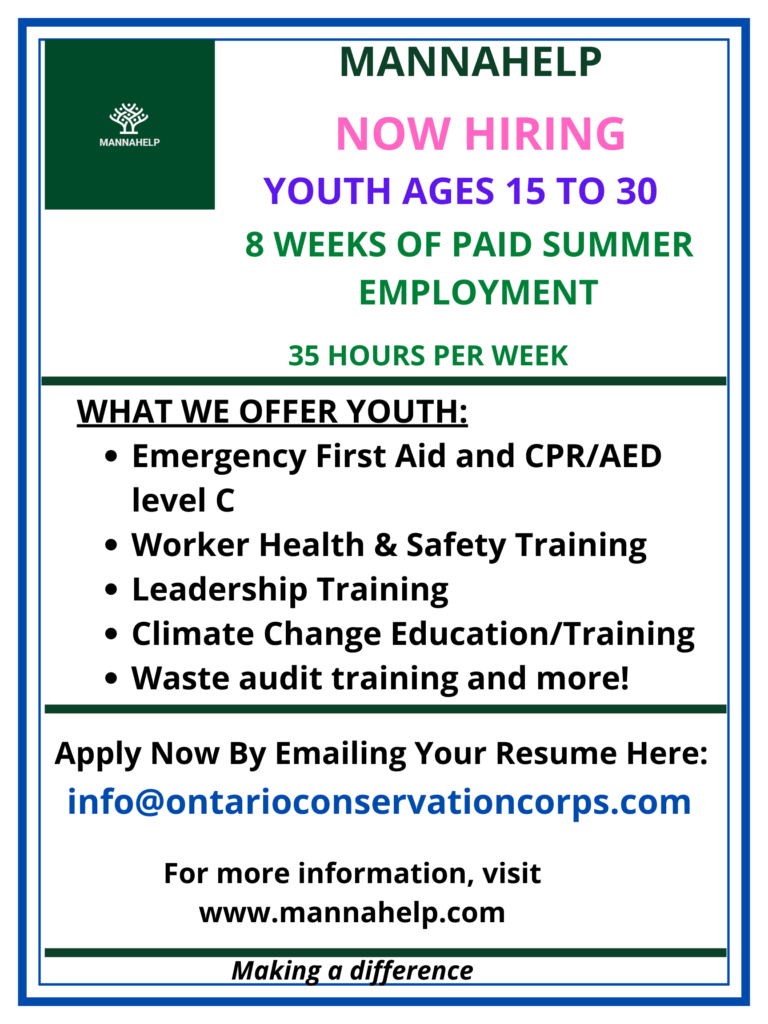 Mannahelp is now accepting applications for our 2022 Summer Initiative known as The Ontario Conservation Corps project. Created as an employment and personal development opportunity for youth ages 15 – 30, the program aims to empower youth to make positive changes in their own lives and their communities. The program also provides youth with training and meaningful employment in environmental and cultural heritage conservation. Youth recruited into this program are referred to as "The Green Team".
This is a paid position running for 8 weeks, 35 hours/week, Monday to Friday. The program will run from July 4, 2022, until August 30, 2022.
The 2022 Summer Initiative is currently planned to be a combination of online and in person program depending on COVID19 guidelines.
The purpose of the Ontario Conservation Corps project is for the green team to:
Make valuable contribution to the community in terms of community and environmental activities.
Learn valuable life and work skills such as teamwork, and leadership.
Navigate their future through setting goals – professional and personal.
Involve themselves as leaders in the community and how to give back in meaningful ways thereby impacting lives.
*Youth who participate in the Ontario Conservation Corps project will receive certificates, participate in community workshops and presentations, and learn how to keep track of waste and recycling numbers!
*They will learn how to write blog posts that rank on google.
Apply by May 23, 2022 to be considered for this role. Applicants selected for an interview will be contacted no later than May 27, 2022. All interviews will take place on June 1 and June 2, 2022. *Work location around Whitby, Pickering, Oshawa and Ajax.
To learn more about Mannahelp, visit www.mannahelp.com
What to Expect
30 positions between the ages 15-30.
Giving youth an insight into environmental and waste management who previously have had little to no experience.
Engagement with the community and different organizations.
Training
Training in the following areas will be provided:
Emergency First Aid and CPR/AED level C
Worker Health & Safety Training
Leadership Training
Climate Change Education/Training and more!
*The Government of Canada funded this job through the Canada Summer Jobs program. You must be aged between 15 and 30 and be legally entitled to work in Canada. International students are not eligible.