Opportunities for income, employment and economic development barely exist in a continent like Africa as such Mannahelp is now currently helping a marginalized community in Sub Saharan Africa called Makoko. The picture below shows a little girl presented with a backpack from Mannahelp staff.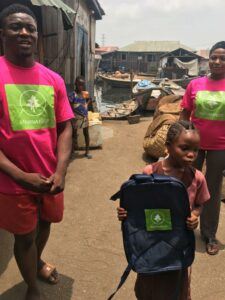 Makoko is situated in Lagos, Nigeria where people survive on less than $1 a day. The Makoko community is located on the coast of Mainland Lagos, Nigeria with half the population on water and half on land.
It is believed that its first inhabitants settled here about 150 years ago. Houses on water are built from hardwood, supported by wood stilts driven deep into the waterbed.
What We Do
Mannahelp provides cash transfer to women which helps to alleviate them out of poverty under the "Yes She Can" program. Women and girls in the Makoko Community are disenfranchised,  and have been further impacted by the effects of the Covid 19 pandemic. This cash transfer helps them cover their living expenses.
Cash transfers are transforming lives in Makoko. Women are able to enroll in a training program where they learn the necessary skills to start a small business. We also provide girls in this community with backpacks,  school supplies and cover their education costs.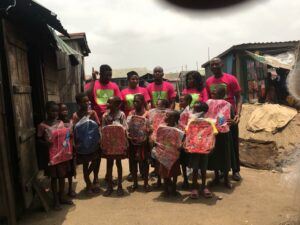 We need help from organizations and individuals so that we can continue to make a difference by improving so many lives.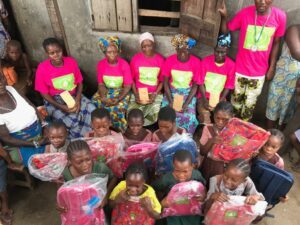 According to an article by hotosm.org it is estimated that the Makoko population is 300,000.  However, the chief of the village believes the population is much higher and could be estimated at 500,000 or higher.
He also explained that thousands of people are still making their way to Makoko on a daily basis from other parts of the country and even from neighboring countries. Makoko slum, Lagos Nigeria also lacks basic social amenities such as electricity, schools, and healthcare clinics.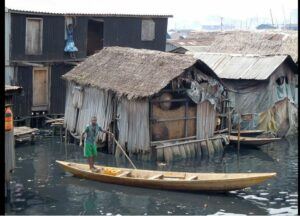 You can save lives by making a donation today.
Together we can eradicate poverty, end hunger and solve the problem of gender inequality in our communities and around the world. Learn more from our blog posts here.